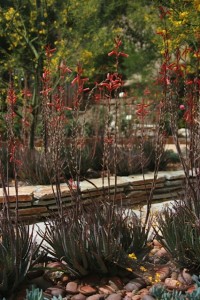 Originally Gardens by Salvador, the work of landscape designer Salvador Rodriguez has been well known in the local surrounding areas of the San Fernando Valley. Featured in the VENTURA BLVD magazine article "Earth, Wind & Foliage" Salvador has been recognized for his unique techniques in combining foliage, texture and natural elements in his work.
[1]Home owner Carolyn shared "We just love it, particularly when the trees are in bloom, I come out here in the morning with a cup of coffee—it's just beautiful." Years after having lawn, succulents and native plants replaced the landscape for a more modern, native look.
[2]Distinctive garden art completes the picture. "I became enchanted with these bamboo sculptures from Tibet and Nepal after I saw them in a magazine. I went on a hunt to find them—ultimately buying some from a woman up in Berkeley!" Karen shares.
Click here to view magazine article.